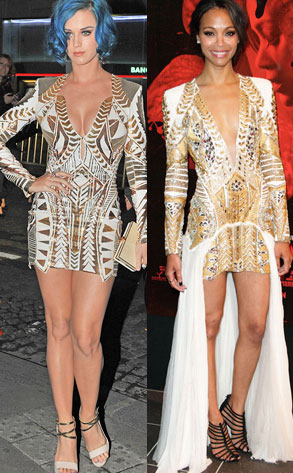 Katy Perry and Zoe Saldana rock the same dress.
We have a wardrobe competition going on!
Last week, Katy Perry rocked her Balmain white and gold long-sleeve mini with strappy sandals, a box clutch, and her bright blue hair dress at Paris's Fashion Week.
While Zoe rocked her Balmain dress in August at the premiere screening of Columbiana.
Zoe takes the WIN; she left the neckline open down the middle, added a white train, and topped it off with black strappy shoes!
Zoe is hot regardless of her outfits!
Readers, who rock the dress better?